Tomorrow is a big day.  I'm taking my RD exam and honestly I don't think that my nerves were this high for the SAT or the GRE COMBINED!!!
I had started studying at the beginning of July, but having my yoga teacher training kept me from getting into a true study groove – it was more haphazard and I was picking through sections.  So once training ended last week, I've been spending the last 7 days putting in at least 4 hours and up to 9 hours studying!
Charlie has found studying to be rather boring.  Poor kitty.
From what research I have done, the exam is separated into four domains which have different weights for the final score.  So I've been hitting a few of the domains harder than others.  I think what I am most surprised about is how much I already knew, but then also how much they need you to know for this exam!!!  WHOOOAAAA BUDDY!
I'm not a person who studies well in their own space (apartment, room etc), so I've been bouncing between Wegmans and Starbucks.  Yeah, RD2Be in a grocery store studying – doesn't get much more stereotypical than that.
One of the girls from my internship came over last night for about 3 hours and we just reviewed sections that were confusing us.  I think it made me feel a little bit better because we are pretty much in the same spot studying and she is only taking the exam a day later than me.
So, I'm off to have a full day of pure review and study questions!  Hopefully my month of yoga training will help keep me calm and in the moment on exam day!  I've been doing inversions just to get the blood flowing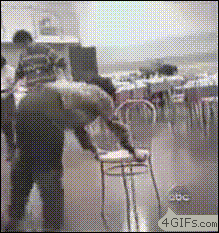 Yeah….something like that.
Does your profession require an exam?  If so, how did you study?