Did you like the first Holiday Gift Guide?  I'm kind of obsessed with gift guides.  Magazines, bloggers, and even companies have their own and are a lot of fun to browse!
Now!  On to the second Holiday Gift Guide in this three part series
Gift Guide for the Cook
For the busy baker:
Cake pops recipe book and cake pop maker.  These bite size cakes are cute and fun to make!  I'm sure the baker in your life would have a blast whipping up a batch of these cuties.
For the cook who has everything:
Does the cook own every kitchen appliance known to man?  Then why not get them a gift card to a fun kitchen store like Williams Sonoma or Harry and David?  These stores offer yummy treats to keep them satisfied.
For the dorm room cook:
If they live in a dorm room or are currently in college, why not  put together a cute gift basket with teas, hot chocolate, oatmeal, crackers, granola bars, with a microwave safe bowl and plate?  This can be a fun project for you, and the person receiving the gift will have a blast opening it.  My favorite microwave safe dishware?  Corelle!
For the Lazy Cook:
Does he or she not like to cook?  Why not simplify the process for them?  The Pasta boat (a TV infomercial best seller!) is actually one of my favorite pieces in my kitchen.  No heating water, no worrying about water boiling over, and the strainer is built in!  Making dinner was never so easy!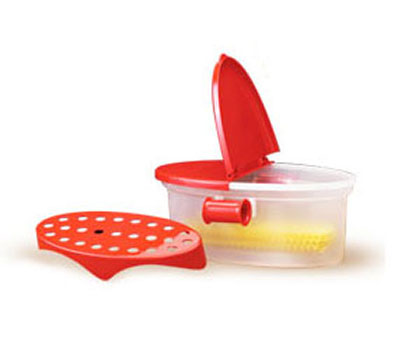 Hopefully this gift guide will help you find unique gifts for the cooks and bakers on your holiday list!  To find the items online, simply click the image and it will take you to the site.
Also, Eat on the Run is promoting an event to motivate you to stay healthy during the holiday! 
Through Facebook, you can register yourself for the Christmas Eve/Day 5K or 10K.  All that's required is that you cover whichever distance over the two day holiday weekend!  Take a walk after Christmas Eve dinner, run 2 miles after opening gifts, then get your relatives out for walk after passing around the cookies
  Click here to attend the event and then check in before, during, or after to let me know how you got your exercise in!  Let's make it a healthy holiday season!
Well I'm going to lay down some more.  The stomach flu is going around!  Blah…